UNIVERSAL HIPER-LUB bushing
Ref: SP051001
Brass - for axle of Ø 2,38 mm (3/32´´) - for Ø 4,6 to 5 mm hole anchoring - 0,39 gr/u - bag with 2 units.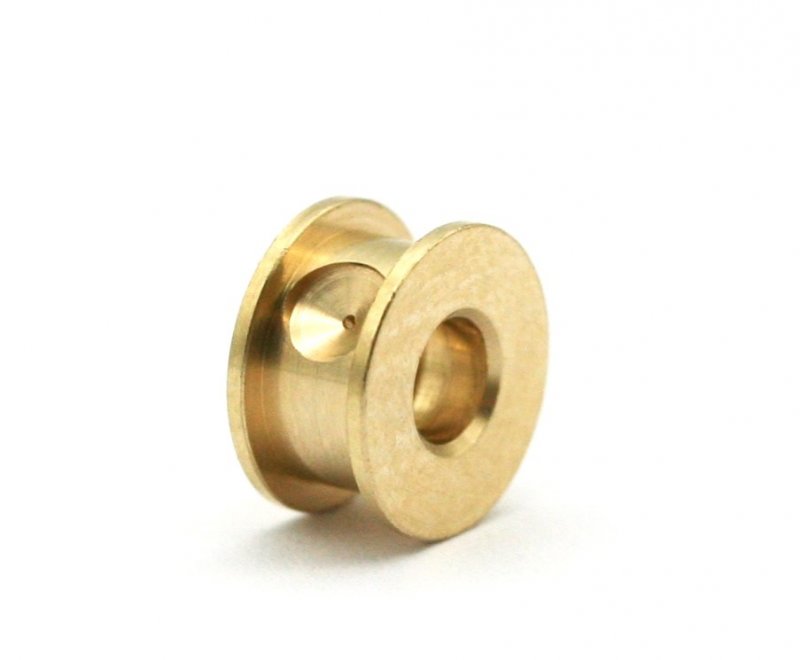 The first bushing in the world created for Slot with the ability to self-lubricate. Its design and posterior manufacture have been a great challenge, because its apparent simplicity hides the enormous difficulty of its manufacture.

Thanks to its small conical tank and the tiny hole of 0.20 mm in diameter the lubricant flows slowly to the axle lubricating it constantly.

The idea of ​​the inner groove has been conceived to achieve two objectives; Reduced the contact area with the axle by 50% and that the inside of the groove acts as a lubricant reservoir.

It is ideal for all short races, the typical of club, and medium duration races because the axle remains lubricated for much longer than a standard bushing.

IMPORTANT: Before the first use and after each cleaning it is necessary to lubricate as usual, as is usually done in a traditional bushing.

Compatible with all traditional or 3D plastic supports between 4.6 and 5 mm diameter.

REMEMBER: To ensure the correct performance, reliability and durability of a brass bushing, it is VERY IMPORTANT to lubricate regularly and generously.