Bushing COMBI PLUS 31 mm
Ref: SP053100
Duraluminium and Brass - for axle of 2,38 mm (3/32´´) - 31 mm total length - for Ø 4,6 to 5 mm hole anchoring - 1 gr - bag with 1 unit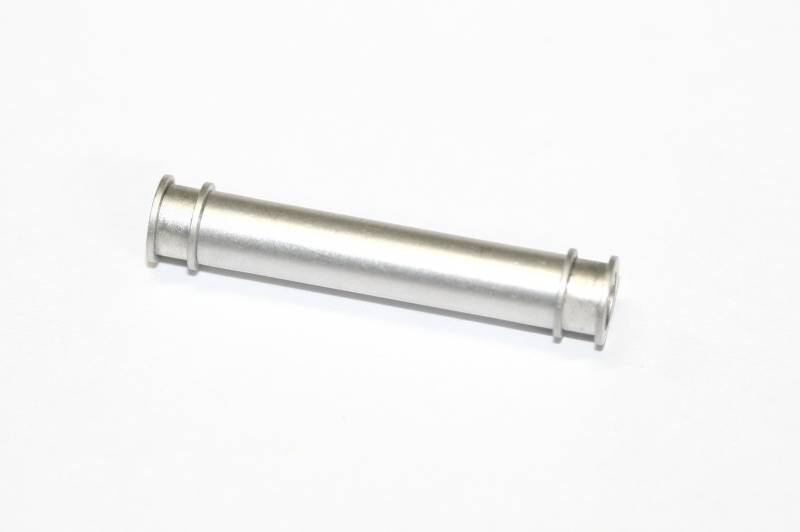 This monoblock bushing, first world's, was devised by Sloting Plus to achieve various objectives.
1- A perfect alignment the axle with the bushings.
2- Increase the torsional rigidity of the support motor or chassis.
3- Lightness. only 1 gr of weight
4- Constant lubrication. It is closed by the axle, and acts as a lubricant reservoir, that is, can be filled with two, three or more oil droplets and this always remains inside, continuously lubricating the assembly by the effect of centrifugal force.
Obviously it can only be used in chassis anglewinder system and three measures covering most of chassis market. Each unit has been verified and is very important to use axle perfectly straight. We recommend using our solid and hollow axle for its perfect linearity and round axes. Using axes that are not perfectly straights invalidate the product.
COMPATIBLE WITH: SP053100 (31,0 mm) Mosler, Megane, Lexus, Supra, NSX NINCO brand and old NSR suport motor.

Compatible with all traditional or 3D plastic supports between 4.6 and 5 mm diameter.

REMEMBER: To ensure the correct performance, reliability and durability of any brass bushing, it is VERY IMPORTANT to lubricate regularly and generously.